Tue, Jul 11 - Fri, Jul 14
CIY Mix 2023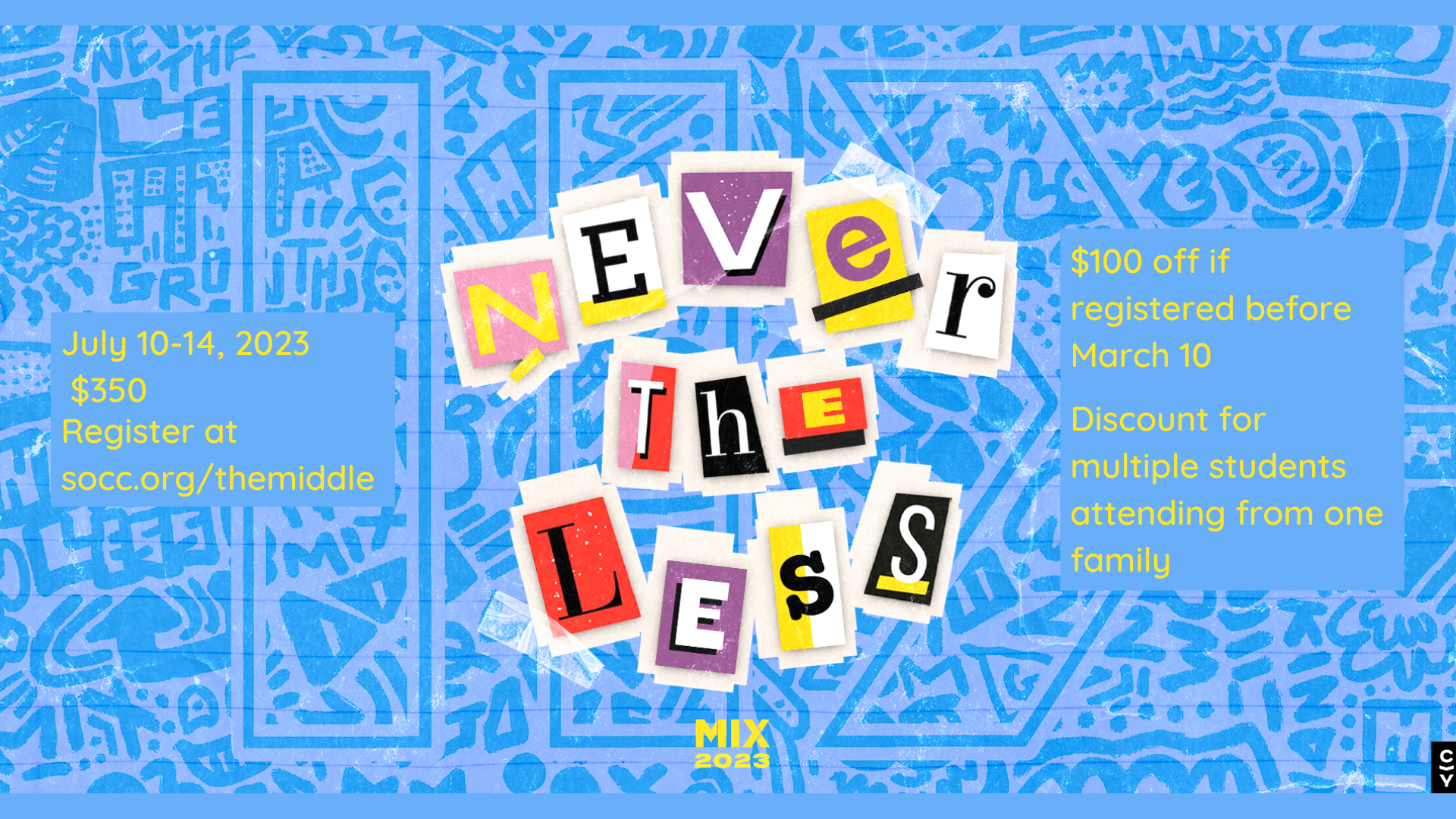 Students in 6th-8th grades during the 2023/2024 school year are invited to CIY Mix with The Middle! We will be going to Indiana Wesleyan University in Marion, IN.
The theme for this year is Nevertheless. From CIY.com:
Being a Christian is so much more than just going to Church and trying hard to be good. Being a Christian means Jesus is totally in charge of our lives. The Bible even says we die, and Jesus lives in us!

What does that mean for a junior high student? It means their thoughts, their habits, their belongings, their widest dreams - everything about them - is no longer what they live for. Instead, they have Jesus living in them.

When we live for ourselves, we get prideful, angry, scared, bored, and even plain mean. But when Jesus lives through us, we are filled with love, joy, peace, patience, kindness, goodness, gentleness, and self-control.

At MIX 2023 we will learn what it means to die to Christ but nevertheless have Him alive in us.
Here's how to register - please read these steps carefully:
Fill out the registration form here. A $100 non-refundable deposit is required to hold your child's spot.
Sarah will email you with a discount code to receive $100 off if you pay your deposit before March 10, 2023. We also offer other discounts for multiple students attending the same event in the same family - email Sarah or Grant with questions.
Follow instructions in Sarah's email and pay the full amount of $350 before June 26, 2023 (the $350 includes the non-refundable deposit paid in step 1). If you ever have questions about how much you owe, please email Sarah (sbynum@socc.org)
Pack and prepare your student for the best week of their summer! Sarah will email a packing list and final trip details 2 weeks prior to the trip.
*If you need financial assistance please contact Sarah*