Every Monday and Wednesday, Sherwood Kids! publishes activities that families can do together at home to complement what they have learned in the previous Sunday-morning service.
October Week 3
Serve
Study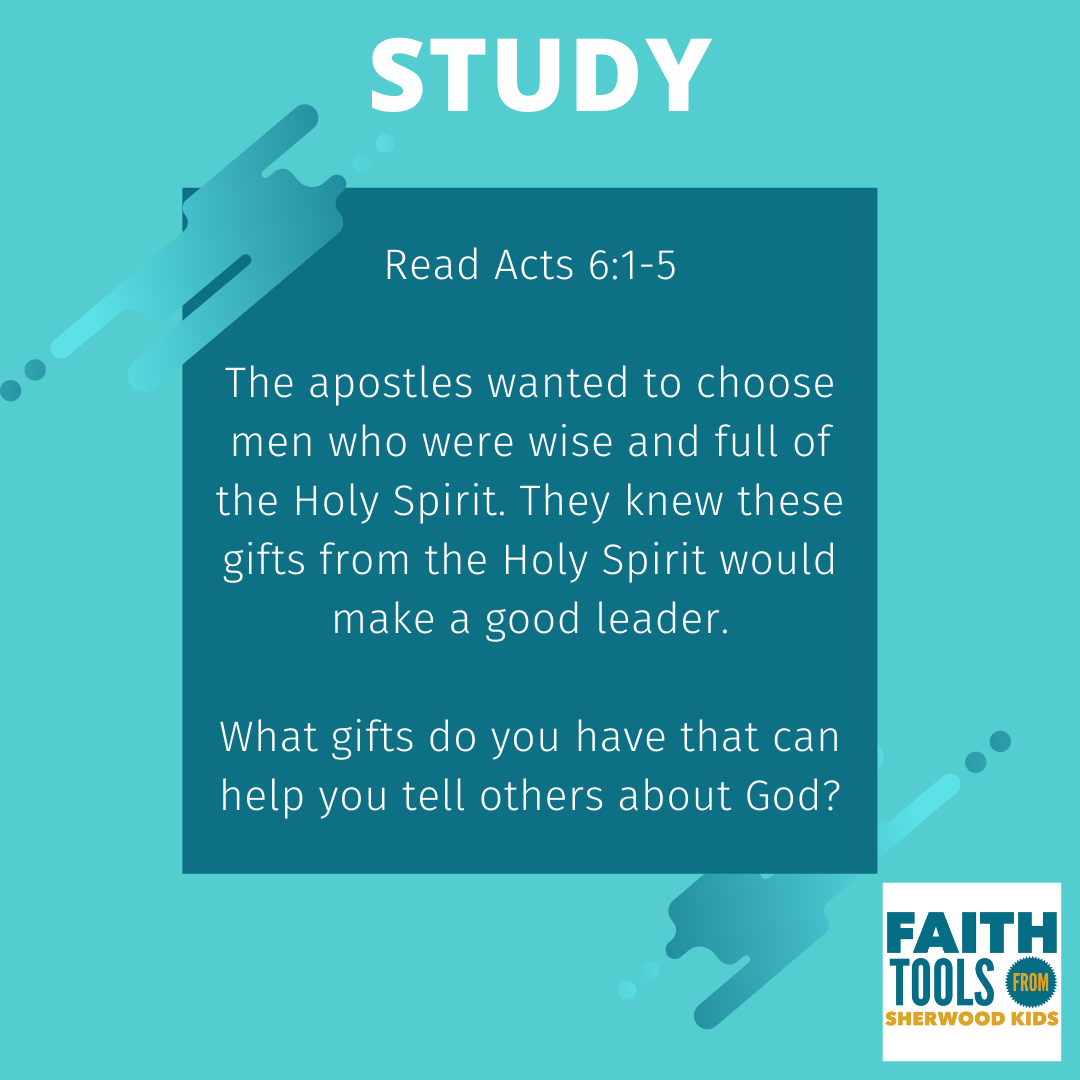 Prayer
Click the picture to Power Up with Prayer!
October Week 2
Serve
Study
Prayer
Click the picture to Power Up with Prayer!
October Week 1
Serve
Study
Prayer
Click the picture to Power Up with Prayer!
September Week 4
Serve
Study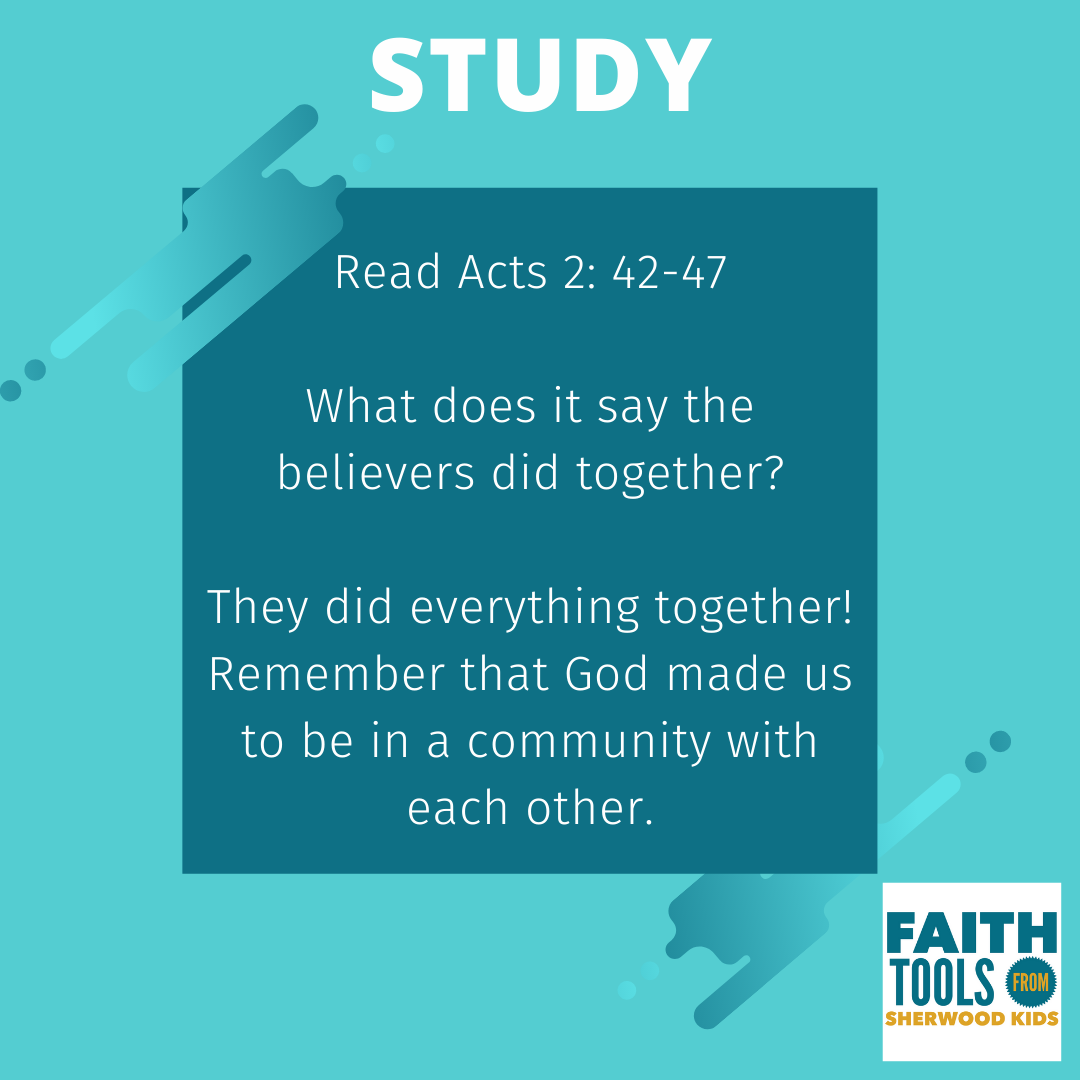 Prayer
Click the picture to Power Up with Prayer!
September Week 3
Serve
Study
Prayer
Click the picture to Power Up with Prayer!
September Week 2
Serve
Study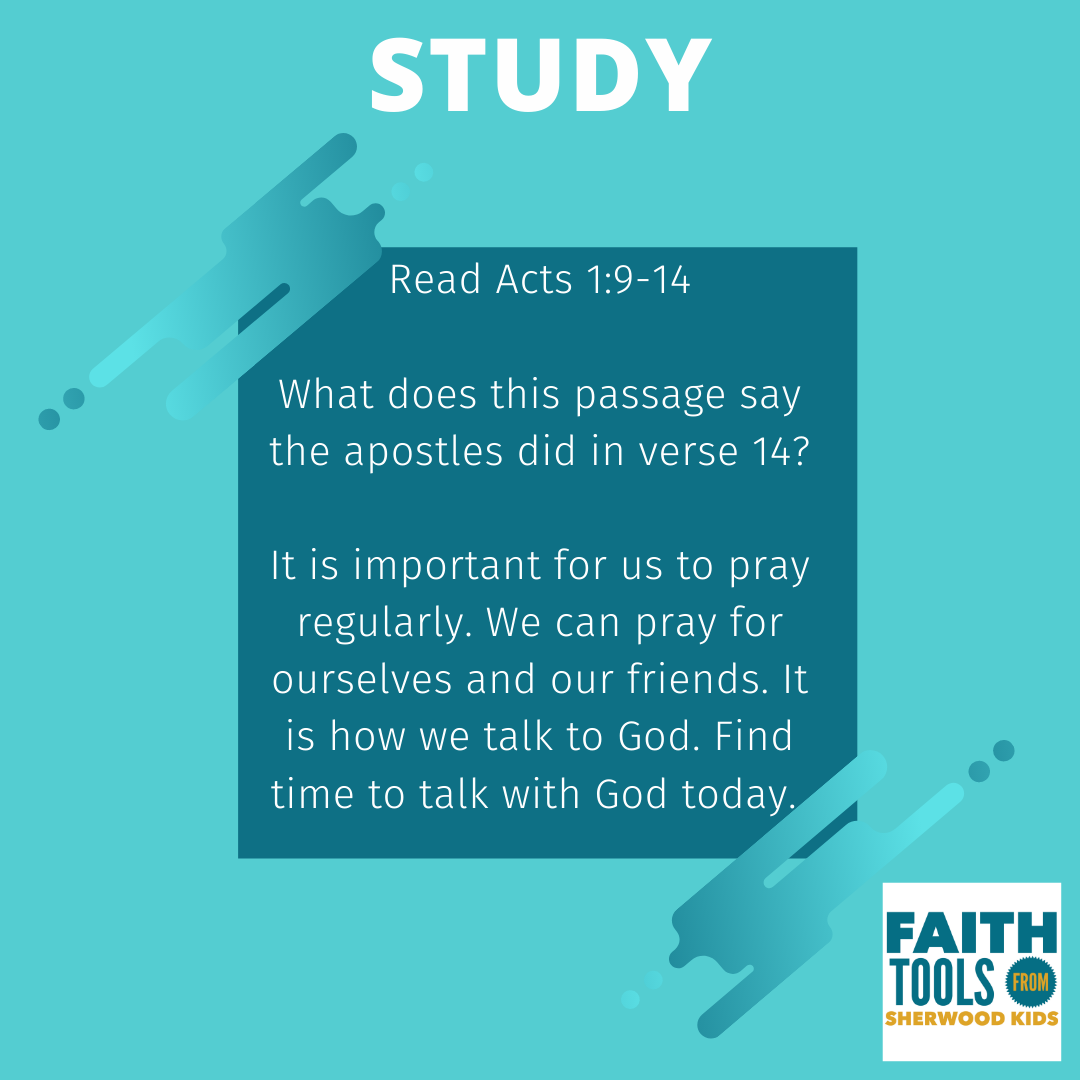 September Week 1
Serve
Study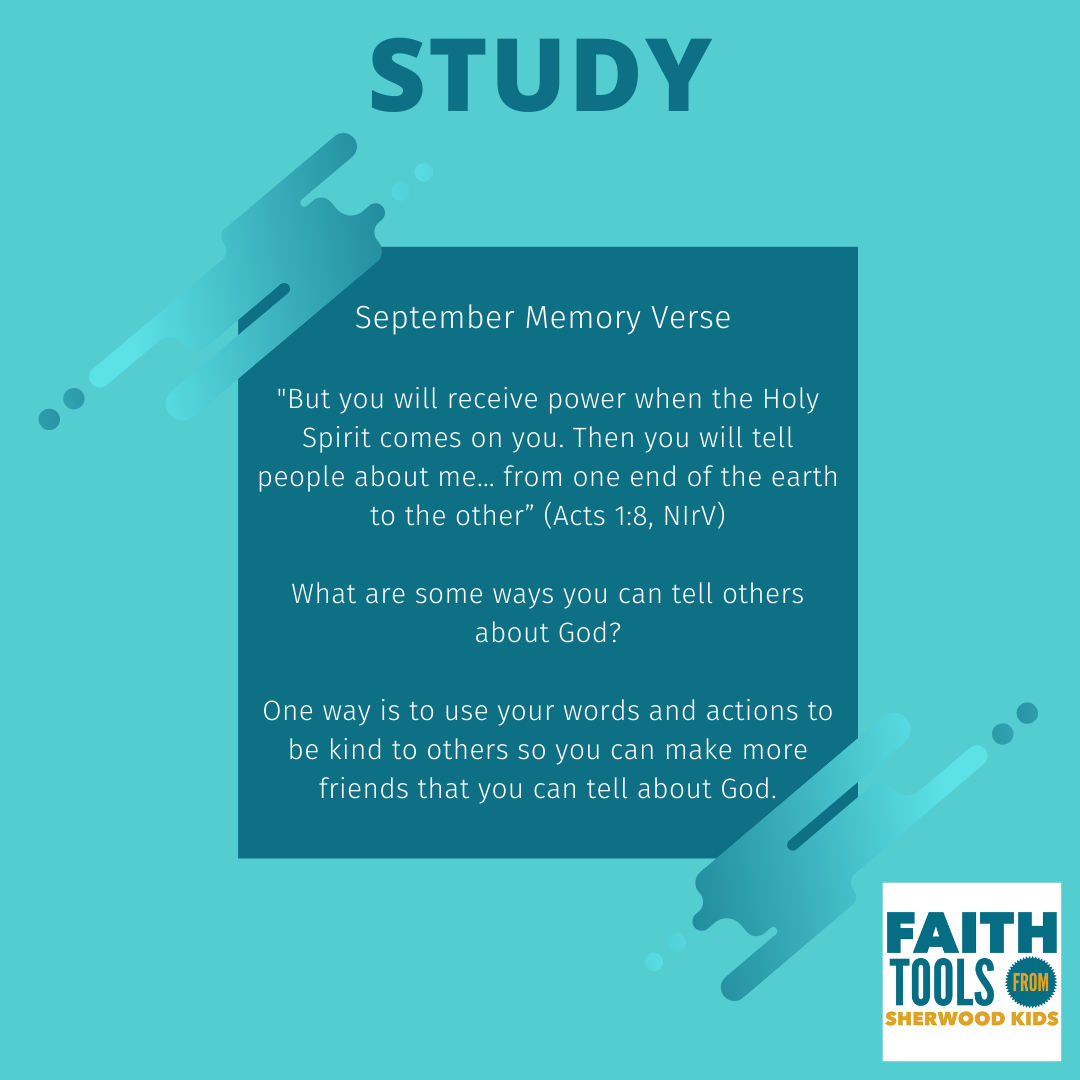 August Week 5 (Bible Reading Week)
Day 5
Day 4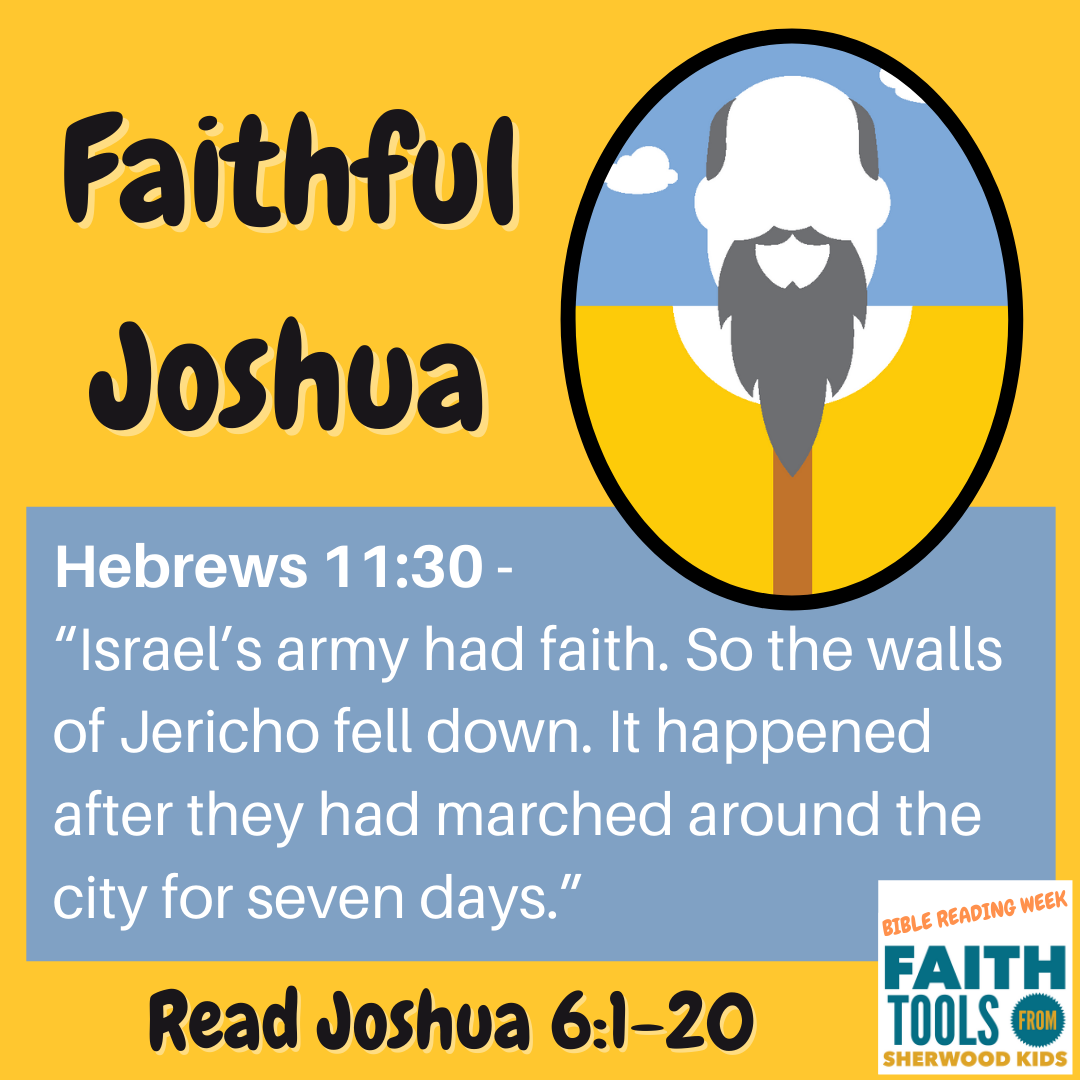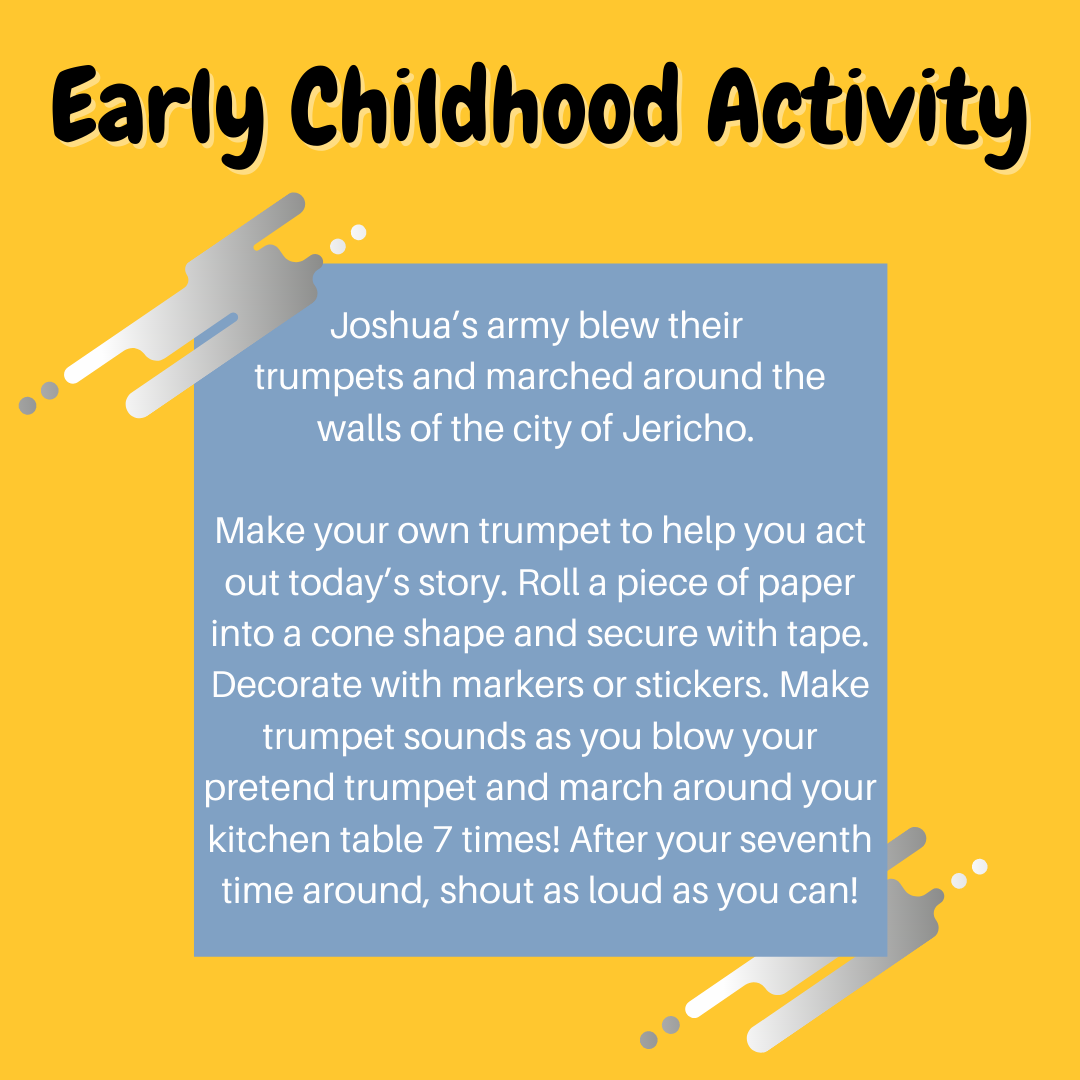 Day 3
Day 2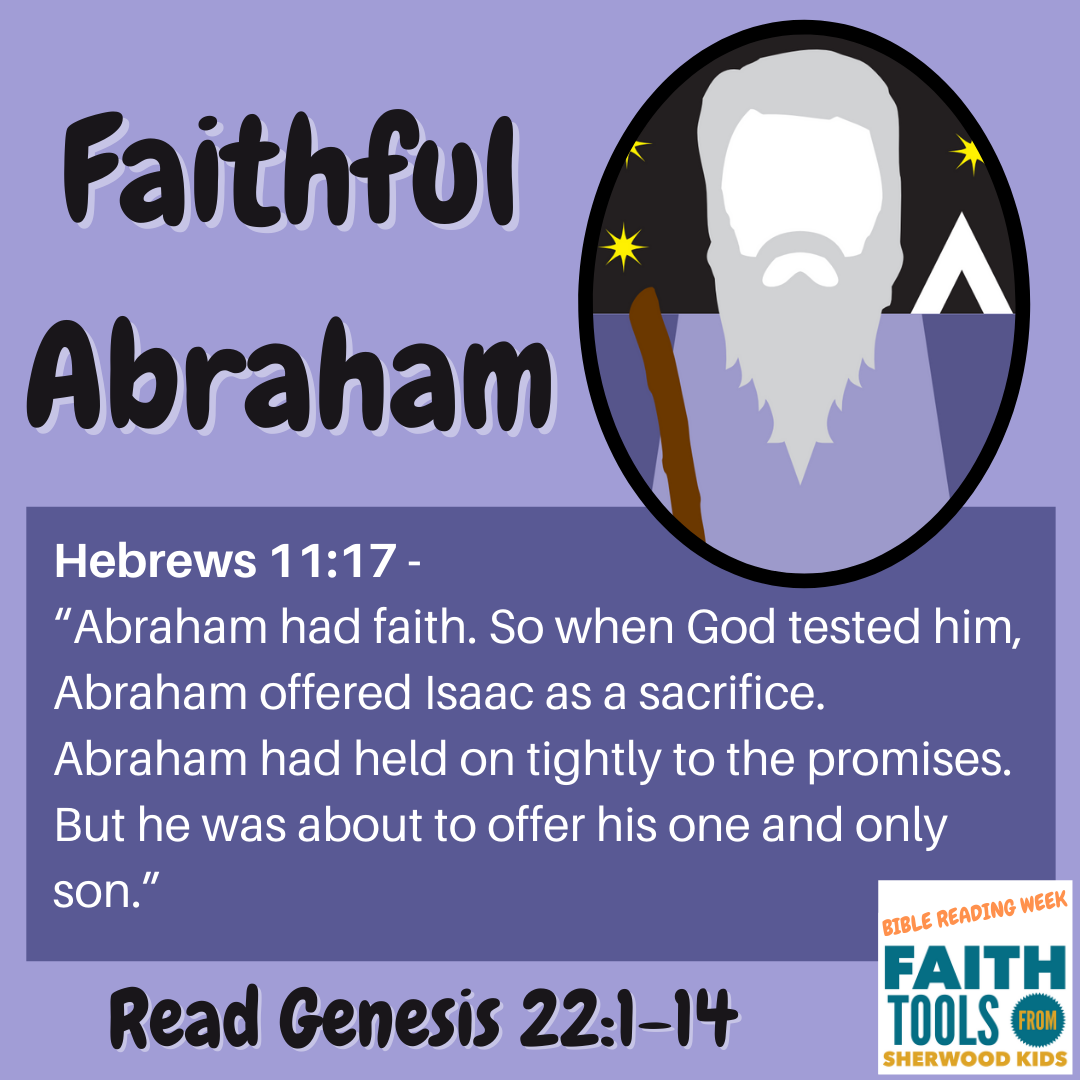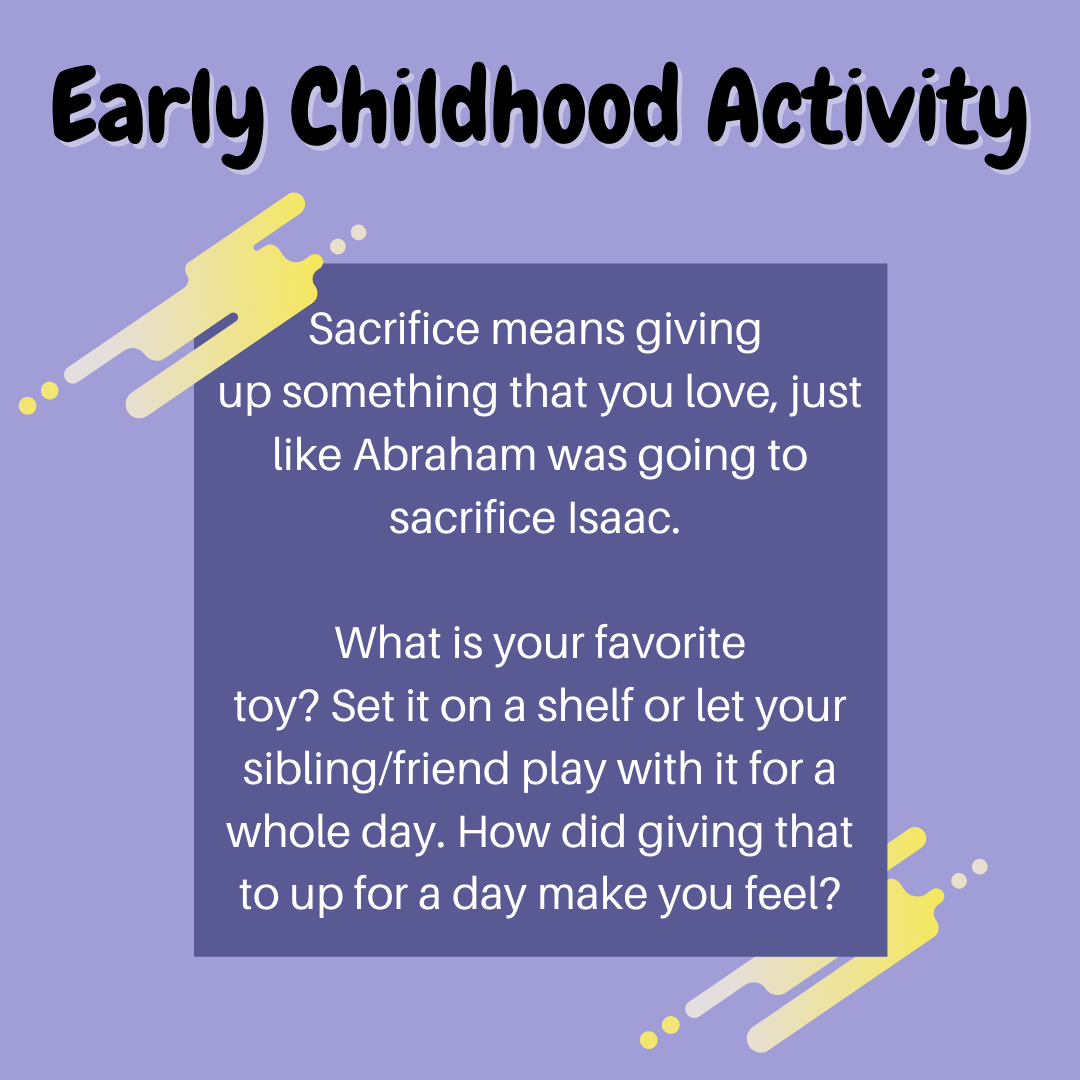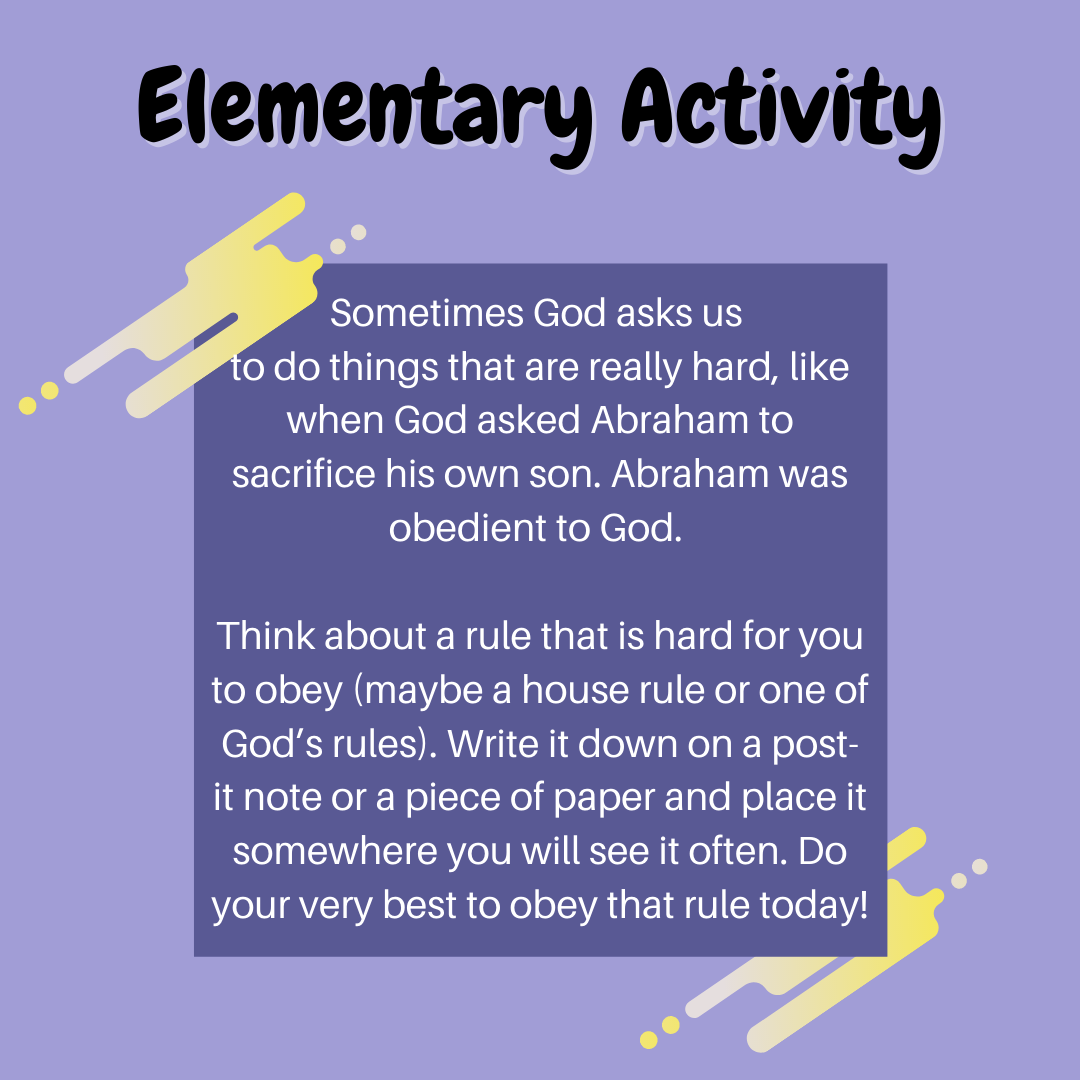 Day 1

August Week 4
Worship
Study
1) Read Acts 9:10-19
2) How do you think Ananias felt when God told him to go to Saul?
3) Ananias was probably afraid. It's okay to be afraid but we know we can trust God when we are afraid. This week whenever you are afraid be like Ananias and trust God.
Pray
We know that we can trust God when we are afraid. Write down things that scare you and then pray that God will help you trust Him during those times.
Serve
Last Sunday we learned how Ananias trusted God even when he was afraid. This week anytime you see someone who is afraid remind them that it is okay to be afraid but that we can trust God even when we are afraid!
August Week 3 (Family Week)
Day 4
Faith Song. Look up the song "Give Me Faith" by Elevation Worship and listen to it as a family.

Parent Tip. Live out the values you want your kids to adopt: respect, friendliness, honesty, kindness, patience, self control, etc.
Day3
Family Walk. Go on a walk as a family. As you walk, take turns thanking God for all the beauty around you.
Parent Tip. Each day, find something to praise about your kids. Be generous with rewards--like your hugs and compliments.
Day 2
Faith Story. Share your faith story with your kids: when did you start following Jesus? Why?

Parent Tip. Choose your words carefully and be compassionate. Let your kids know that everyone makes mistakes and that you still love them even when you don't love their behavior.
Day 1
Trust Fall. Have your child stand with her back toward you. Then, tell her to fall backwards while you catch her in your arms. Now, share the story of a time when you trusted God.
Parent Tip. Create a "special night" each week to be together with your kids and let your kids decide how to spend the time.
August Week 2 (Prayer Week)

Day 5
Read Psalm 107:1-9 and say a "Prayer of Gratitude." Make a list of all the things you are thankful for. (Play a game to see who can put the most things on their list.) Now, thank God for everything on your list.
Day 4
Read Hebrews 10:24-25 and say a "Community Prayer." While you look at a map of your community or drive around town, pray for the different places you see.

Day 3
Read Philippians 4:6-8 and say the following "Head to Toes Prayer":
Head: Pray for our minds to focus on Christ.
Eyes: Pray that our eyes would seek Jesus and look for ways to help others.
Ears: Pray that our ears would listen to the Holy Spirit and hear needs of others.
Mouth: Pray that our mouths would speak words of kindness and encouragement to others and share the good news of Jesus' life.
Hands: Pray for ways to serve others.
Tummy: Thank God for all His blessings, including the food He provides.
Legs: Pray for God to lead us toward Him in all that we do.
Toes: Pray that we will always follow Jesus and go to him first.
Day 2
Read Psalm 95 and say a "Before and After Prayer." Before and after you eat a meal, kneel by your chair to tell God how much you love Him.
Day 1
Read Hebrews 11 and say a "Popcorn Prayer" to pray for those who are facing a struggle. During your prayer time, simply say the names of the people God brings to your mind.
August Week 1
Worship


Study
1) Read 1 John 3:16-18.
2) Draw a big heart on a blank piece of paper.
3) Fill the heart with ways you can show God's love to others this week.
Pray
Talk with God about the actions you listed in the "Study" activity. Ask Him to give you an opportunity to show His love to someone.
Serve
Show God's love to someone by doing one of the actions that you wrote down in the "Study" activity.

July Week 4
Worship

Study
1) Make a list of different sources of light and what we use them for.
2) Read Psalm 119:105.
3) How is the Bible like a light?
Pray
Ask God to help you to remember to turn to the Bible as your guide.
Serve
Be a light in someone's life this week. Send a card or draw a picture for someone who needs to know that God loves them.
July Week 3
Worship

Study
1) Read Psalm 130 with your family.
2) Think about a time when you may have felt guilty from your sin. How did you feel? Did you ask God for help?
3) Remember, our God is a forgiving God who has an unfailing and never-ending love for us and wants to redeem us. All we have to do is ask God to forgive us and know that He always will!
Pray
Pray: Dear God, help me to let go of the feeling of guilt that makes my heart heavy. Help me to accept your forgiveness through Jesus. Amen.
Serve
This week when you do something bad to someone else and feel guilty about it, take time to ask the person you wronged to forgive you.
July Week 2
Worship


Study
1) Read Psalm 150.
2) Pick up a praise him trumpet in the faith tools tub at the church or make your own by rolling up a piece of paper.
3) Talk as a family about different things you can do to praise God.

Prayer
Dance, sing, or make music as you pray a prayer of praise to God.

Serve
Every day this week, tell each person in your family something they do well or that you love about them.
July Week 1
Worship


Study
1) Read Psalm 103.
2) What is the scripture telling us about who God is and what He does?
3) Can you make a list of these attributes of God? (Examples include He is holy, forgives, heals, redeems, just, gracious, loving,...)
4) Write a verse or draw a picture of something you want to remember about our redeeming God. Share your verse or picture with your family!

Pray
Do an "It's Not Fair" Prayer. Things in the world are not the way God intended them to be. Brainstorm some things that seem to be unfair. Now share your "It's Not Fair" prayers with God through writing a letter or drawing a picture and ask God to fix it.

Serve
Tell each member of your family you love them every single day.

June Week 4
Worship


Study
1) Read Psalm 73:1-3, 22-28.
2) Sometimes we can feel all alone and not know what is going to happen in our life. Talk about a time when you have been unsure or had doubts about things in your life.
3) Then talk about how God is always with you. So, no matter what happens, God is our strength and refuge/shelter. Now, take turns saying how it makes you feel to know that God is always protecting you.

Pray
Read Psalm 73:28: "But as for me, it is good to be near God." Spend some time being near God today through quiet prayer and reflection, telling Him what's on your mind, and listening to Him.

Serve
Memorize Psalm 73:26: "God is the strength of my heart." Whenever you interact with someone who is scared or uncertain about the future, share this verse with them.
June Week 3
Worship


Study
1) Read Psalm 126.
2) Think of a time when you were disappointed, but God restored your joy.
3) Make a list of the great things God has done for you and share the list with your family.
4) This Sunday is Father's Day! Make another list of the great things your dad has done for your and give it to him to show him how much you appreciate him.

Pray
Use scripture to pray.
Say, "Hear my prayer, Lord. Listen to my cry for help" (Psalm 39:12). Then, ask God to help where you need it.
Say, "The Lord has done great things for us, and we are filled with joy" (Psalm 126:3). Then, praise God for the great things He has done for you.

Serve
Do something to bring joy to someone else. Tell them a joke, sing a song, draw a picture, share a funny story, etc.
June Week 2
Worship


Study
1. Read Psalm 3:3-6.
2. Point out what David says about God in verse 3--that God is a shield who protects him.
3. Make a shield by using a paper plate. Fill the bottom (not the side you put food on) of the plate with words or pictures that describe who God is or what He is like. Then, staple the strip of paper onto the top (the food side) of the plate to form a handle.
4. As kids work, talk about how God acts as a shield protecting His people physically, but also the knowledge of Him protects us in various situations so we don't have to fear...example: knowing that God heals is a comfort to someone who is sick, or knowing God is sovereign is a comfort when things seem to be out of control around you, etc.
5. Have kids share a few of the things that they put on their shield and how knowing God protects you takes away your fear.
Pray
Breathe in and out while you say this week's scripture several times: (Breathe in) "When I am afraid," (Breathe out) "I will trust You."
Serve
Write "God is in control" on several notes and post them around your house to remind people why they do not have to be afraid.
June Week 1
Worship


Study
1. Read Psalm 3
2. Discuss how God is like a shield
3. Draw an image of a kite and decorate it. On your kite, list different ways God protects and lifts up His people.
4. Cut out the kite and display it somewhere where it will remind you of God's protection and how He lifts us up.
Pray
1. Blow up a balloon.
2. As it inflates, think about something that makes you angry.
3. Pinch the balloon and pray to God to help you release your anger.
4. Release the air from the balloon as you release your anger.
Serve
When you get mad at someone, take three deep breaths and do something nice for them later that day.
May Week 4
Worship

Study
1. Read John 11:38-44
2. Discuss how the people there at the tomb might have felt
3. Take a plastic spoon, stick from outside or a popsicle stick and wrap it with toilet paper. You can secure the toilet paper with tape if you like. This will represent Lazarus wrapped up in linens. Leave room for his eyes and place google eyes or draw eyes.
4. Retell the story using the Lazarus figure you made.
Pray
1. Think about a situation in your life or a friend's that seems hopeless
2. Pray for God to bring healing and hope to that situation
3. Thank God that His plans are bigger than ours!
Serve
This Sunday we are learning that God gives us hope and encouragement even when we think things are finished. Write a letter to a friend or family member to encourage them this week.
May Week 3
Worship
Click here for a worship experience led by an SK! volunteer.
Study
1. Read Micah 6:8
2. Discuss what it means act justly, love mercy, and walk humbly.
3. Make a craft. On a sheet of paper, trace your hand at the top of the page, draw a heart in the middle of the page, and trace your foot at the bottom of the page. Now, write "act justly" next to your hand, "love mercy" next to the heart, and "walk humbly" next to your foot.
Pray
Dear God...
(Point to your eyes)
Help me to seek justice.
(Point to your ears)
Help me to hear the cries of the needy.
(Hold out your hands)
Help me to take action and help others.
(Walk in place)
Help me to walk in your way.
(Fold your hands)
In Jesus' name, Amen.
Serve
Micah 6:8 says to walk humbly. So, this week secretly do something kind for someone else. (Make sure you don't tell them you are doing it!)
May Week 2
Worship
Click here for a worship experience led by an SK! volunteer.
Study
1. Read Ecclesiastes 4:9-10
2. Being a friend includes many different traits. One is to always be there for a friend when they are down or going through a hard time, even if that is not the popular choice at the time.
3. Discuss the traits of a good friend with your family and make a list.
4. Write a letter to a friend and let them know how important they are to you and include some of the traits they possess.
5. Then use the popsicle sticks from your Sherwood Kids Activity Bag (see information at the top of this webpage) to make friendship bracelets, and include one in the letter to you friend. You can also keep one to remind yourself to be a good friend.
6. Follow these instructions to make the bracelets with your Parents Help:
- Boil the craft sticks for 15 minutes, and let them sit for another 30 minutes
- Gently bend bracelets and place inside small jars or drinking glasses to dry overnight.
- Decorate however you like using tape, crayons, markers, string, stickers, etc. You can also write words of encouragement and the traits of friendship as reminders when you look down at your bracelet.
Pray
Look up the definitions for the words BOLD and OBEY. Pray to God and ask him to help you be bold in your obedience to him - doing what is right even when it might not be what is popular.
Serve
This Sunday we will learn about Jeremiah and how he had a friend help him when nobody else would. This week keep an eye out for someone who needs help and find a way to help them.
May Week 1
Worship
Click here for a worship experience at home.
Study
Before Sunday Morning read Galatians 5:22 as a family. Write down on popsicle sticks a list of things that make a house a home. Then on Sunday have your kids use the sticks to rearrange them to make different houses. We would love for you to share photos of the different houses you all create! Send them to us at or tag us on Instagram or Facebook.
Pray
Ask God to produce the fruit of the Spirit in you. During your prayer, name each "fruit" and a circumstance in which each "fruit" can work.
Serve
Think of a way that you can live out one of the fruits of the Spirit in your home: love, joy, peace, patience, kindness, goodness, faithfulness, gentleness and self-control. Now, go and do it!
April Week 4
Worship
Click here for a worship experience at home.

Study
Read Philippians 2:3. Choose two words that stand out to you. Talk about what the words mean and why they are important to you.
Pray
Use the ACTS prayer guide. A is for adoration...tell God how much you love him. C is for confession...tell God you're sorry for doing something wrong. T is for thanksgiving...thank God for something. S is for supplication...pray for God to help you or someone else.
Serve
Help make dinner or set the table one night.