Community Outreach PRAYER GUIDE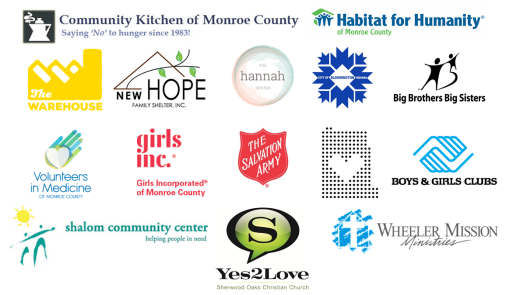 "IF my people who are called by my name humble themselves, and pray and seek my face and turn from their wicked ways, then I will hear from heaven and will forgive their sin and heal their land." 2 Chronicles 7:14
Please pray for our partners agencies listed above, that each will be successful in reaching our common mission to assist at-risk children and families in our communities.

COMMUNITY KITCHEN OF MONROE COUNTY
1515 S. Rogers St. Bloomington, IN 47402 (812) 332-0999
website: http://www.monroecommunitykitchen.com/
Debbie Hopson, Volunteer Coordinator
PURPOSE: Offers, without question, free meals from two locations, meals to at-risk youth participating in non-profit youth programs, summer breakfast delivery, and backpacks of weekend food supplies for low-income children.
Backpack Buddies
Children receive a backpack of food each week to help their families with their weekend food needs. We are currently providing this service at Fairview, Summit, Arlington, Clear Creek, Grandview, Highland Park, Templeton, Binford, Edgewood and Lakeview Elementary Schools. We have approximately 270 children enrolled in this program.
Sherwood Oaks has partnered with The CK through Carefest projects, food donations and a summer Sunday Lunch Program.
PRAYER NEEDS: Food donations and volunteer teams to help with the BackPack Buddies program.

THE WAREHOUSE
1525 S. Rogers Street
Bloomington, IN 47403 (812) 333-3951
(Next door to the Community Kitchen)
website: http://www.warehousebtown.com/
Dave Weil, Executive Director

PURPOSE: A privately funded 501(c)(3) non profit that exists to positively impact the community by providing a safe pace for sports, recreation and the arts; using relationships built through these activities to share the love of God through the story of Jesus. Some of their programs include: Pastor's prayer breakfast, college and young adult ministry, sports activities, and open graffiti. The North and South exterior walls of The Warehouse are open for graffiti artists to create work anytime during the week or weekend---as long as it is family-friendly.
Sherwood Oaks has partnered with The Warehouse through Carefest projects.
PRAYER NEEDS: Volunteers to oversee afterschool programming for students. Financial support for renovation and programming expenses.

SHALOM COMMUNITY CENTER
620 S. Walnut St./P.O. Box 451, Bloomington, Indiana 47402 - (812) 334-5728
website: http://shalomcommunitycenter.org/
Mark Emerson, Volunteer Coordinator
PURPOSE: Provides a daytime respite and resource center for Monroe County residents who are living in poverty and experiencing hunger, homelessness, and lack of access to health care and basic life necessities.
Sherwood Oaks has partnered with The Warehouse through Carefest projects.
PRAYER NEEDS: Loving care for the homeless who take meals, receive mail, do laundry at Shalom Center. Prayers appreciated for strength, patience, and compassion for the staff who work long house to meet the needs of the under-resourced in Bloomington. Volunteers are needed for food service and for intake receptionists.

NEW HOPE FAMILY SHELTER
301 W. 2nd St.Bloomington, IN 47403 - (812) 334-9840
website: http://www.nhfsinc.org/
Elaine Guinn, Executive Director
PURPOSE: Provides temporary shelter for homeless families in Bloomington and Monroe County and, in collaboration with other agencies, helps those families regain housing by addressing the problems that led to homelessness.
Current Needs: Laundry soap Paper products (tissues, toilet paper, paper towels), dish soap, Kroger gift cards, hand soap, disinfectant spray, office paper, postage stamps, gas cards, bus tickets. Young people staying at the shelter need help accessing physical activities! Consider donating money specifically to pay for ice skating outings, trips to the rock climbing gym, and passes to play at the YMCA.
Volunteer Needs:
Sherwood Oaks has partnered with The New Hope through Carefest projects and weekly work teams / HopeBuilders.
PRAYER NEEDS: New Hope needs to find a new home before 2020. We learned that when the hospital moves (our property is owned by IU Health) we will need to vacate the homes we've occupied for just $1 a year for the past 5 years. We just learned this in recent months but already we've put together a task force (with several high level key players in the community to help us in our search - next we'll need to raise funds.)

VOLUNTEERS IN MEDICINE
811 W. 2nd St., Bloomington, IN 47403 - (812) 333-4001
website: http://www.vimmonroecounty.org/
Nancy Richman, Executive Director
PURPOSE: Provides free primary care, dental, and mental health services; treatment for acute and chronic conditions; and preventive health education for uninsured adults in Monroe and Owen counties meeting eligibility criteria.
Sherwood Oaks has partnered with VIM through monthly donations for medicine and Carefest projects.
PRAYER NEEDS: Our primary need is for people that are bilingual in English and Spanish, Russian, Turkish, Mongolian, Chinese, Vietnamese, Tibetan, and others as the need arises. We've become a medical United Nations!


HABITAT FOR HUMANITY
213 E. Kirkwood Avenue Bloomington, IN 47408 - (812) 331-4069
website: https://monroecountyhabitat.org/
Kerry Thomson, President / CEO 812-331-4069 x206
PURPOSE: Habitat for Humanity of Monroe County's mission is to eliminate poverty housing by building simple, decent, affordable homes in partnership with qualifying families. Habitat homeowners pay interest-free, no-profit mortgages, which are used to build more Habitat houses. Because houses are principally built with volunteer labor, mortgage payments are affordable for low-income partners.
Habitat qualifying families, or partner families, are selected based on their need for housing, ability to repay the no-interest mortgage and willingness to partner with Habitat by earning 250 hours of "sweat equity" or volunteer time. Through the work of thousands of volunteers and organizations, Habitat for Humanity of Monroe County has built more than 160 homes.
Sherwood Oaks has participated in 3 Women's Builds and sponsored 3 Habitat homes
PRAYER NEEDS: Volunteers to help build homes; partner agencies/churches to assist with construction expenses


SALVATION ARMY
111 N. Rogers. Bloomington, IN 47402 - (812)336-4310
website:http://www.salvationarmyusa.org/usn/plugins/gdosCenterSearch?query=47403&mode=query_1&limit=20
Sharyn Tennyson, Sharyn_Tennyson@usc.salvationarmy.org

PURPOSE: The Salvation Army was founded with the basic social services principles of taking care of the physical and emotional needs of the hungry and homeless and remains an outward visible expression of the Army's strong religious principles. The Salvation Army programs include Christmas assistance programs, and helping with winter coats, food, clothing, rent and utility assistance and prescription eyewear.
The Salvation Army also operates Sally's Place a downtown gathering place for senior citizens and older adults.
The SA is part of the Sherwood Oaks Adopt a Family program for Christmas gifts to under-resourced families and school backpacks.
PRAYER NEEDS: Clothing and goods donation for the kitchen; Thanksgiving and Christmas donations.


BIG BROTHERS BIG SISTERS 807 N. College Ave. Bloomington, IN 47404. website:http://www.bigsindiana.org/site/c.dmJZKiOUJgI8G/b.6451181/k.E74B/Big_Brothers_Big_Sisters_of_South_Central_Indiana.htm Mark Voland, Executive Director
812-334-2828x227
Danell Witmer Director of Development & Events 812-334-2828 x 226
PURPOSE: Serves the social, emotional, and educational needs of children by facilitating professionally supported relationships with adult volunteers in a variety of programs.
Being a Big Brother or Big Sister gives you the opportunity to help shape a child's future for the better by empowering them to achieve. You and your Little can share the kinds of activities you already like to do. Play sports together. Go on a hike. Read books. Eat a pizza with extra anchovies. Or just give some advice and inspiration.
URGENT NEED: On September 24th we are launching our 30 Men in 60 Day's recruiting campaign. We have a lot of boys on the waitlist and many have waited for a Big Brother two years or longer. That would be our specific volunteer need, to match more boys with positive male adults.
Sherwood Oaks has partnered with BBBS through donation and volunteer Bigs as part of the recent On Target / Befriend outreach.
PRAYER NEEDS:
Mark Voland:Our prayer request would be that BBBSSCI be able to reach and serve more children in the community so they can reach their potential. Every child growing up deserves a "Champion" in their life.
Danell Witmer: Pray:
That we have more mentors step up to help the 80+ kids on our waitlist. 50 of them are male and really need male mentors. Pray we have a very successful Bowl for Kids Sake this year (it kicks off in November of 2016 for an event in February 2017). This event alone is responsible for nearly 50% of our overall operating budget. Last year we had a deficit of almost $40k from the prior year, so our budget is extremely tight this year…which means we can only keep enough staff for our small budget, and that means less kids get served. In addition to our BFKS event, we hope that with the implementation of my position, we can reach out to more individual donors and create a donor base to support the agency without relying so heavily on one event. One bad event can certainly take its toll on the economic stability of the agency.
Pray for the Bigs and Littles, and that the matches will help guide the children to make better decisions and see other opportunities in their world.
Pray for the staff in the office that work tirelessly to help make these matches, and thus making a difference in the lives of these children.
Danell's personal request: Pray that I can serve as a light in the office and provide a Christian perspective on conversations, decisions, and affect the lives of all of the employees here.

THE HANNAH CENTER (Crisis Pregnancy Center)
808 North College Avenue. Bloomington, IN 47404 - (812)334-0104
Website: http://www.hannahcenter.org/
Tina Tuley-Lampke, Executive Director

PURPOSE: Hannah Center, formerly Crisis Pregnancy Center & Hannah House Maternity Home, is a nonprofit ministry serving women, their partners, and families, who come seeking help in making decisions about their pregnancies and related concerns. Your future is important to us, and we consider it an honor and privilege to be a part of your life, assisting you during such a crucial time.
We help meet spiritual, emotional and physical needs of people affected by crisis pregnancies and early parenting challenges.
Sherwood Oaks has partnered with The Hanna Center through Carefest projects, goods donations, and monthly financial support PRAYER NEEDS: Pray for the clients who visit for pregnancy tests, advise, and assistance. Pray for the staff to reflect compassion and love to the clients. Pray for needed financial/goods donations.


MONROE COUNTY UNITED MINISTRIES (MCUM)
827 W. 14 Ct., Bloomington, IN 47404 (812) 339-3429x11
Website: http://mcum.org/
Erin Predmore, Executive Director

PURPOSE: Offers high-quality, full-time childcare for children ages 2½-6 and basic needs assistance (food, clothing, hygiene products, financial assistance, etc.) to Monroe County residents in financial crisis.
Sherwood Oaks has partnered with MCUM through donations and work teams for their recent pantry renovation.
PRAYER NEEDS: Food donations for pantry; more space and teachers to offer affordable child care to more families.


BOYS & GIRLS CLUB
803 N. Monroe St./P.O. Box 1716, Bloomington, IN 47402 - (812) 332-5311
Website: http://bgcbloomington.com/
Jeff Baldwin, Executive Director , ext. 212

PURPOSE: Guidance organization fosters physical, intellectual, emotional, and social growth for boys and girls 6-18; after-school transportation, tutoring, snacks. At-risk services.
VOLUNTEER NEEDS:
Reading Buddies- one on one reading with an elementary aged child in K-3rd grade two times per week
Indiana Kids Tutoring- one on one tutoring with K-6th grade student two times per week.
Special Program Leader- lead an 8-week special class that engages youth at least once per week for 50 minutes. (ideas- photography club, drama club, cooking club, archery club, etc.)
Club Handyperson- Each of our three club sites need people to be on call for maintenance issues and other projects.
Assistants Needed in Art Room, Games Room or Gym. Work in one of these spaces, supporting club staff as they deliver an engaging program twice per week for an hour.
Sherwood Oaks has partnered with The Boys and Girls Clubs through Carefest projects, goods donations, Christmas parties, and financial support.
PRAYER NEEDS:
Please ask for the continued protection of our youth. Keep them safe from sexual, physical, and emotional abuse.
Please ask for God's Grace as He strengthens our staff to make the greatest impact every day.
Please ask God to continually open people's hearts and minds to the need of our youth in this community. Help us all realize that our youth will impact this community in one-way or another.


GIRLS, INC.1108 W. 8th Street. Bloomington, IN 47404 - (812)336-7313
Website:

http://www.girlsinc-monroe.org/


Amy Stark, Executive Director astark@monroe.girls-inc.org
Linda Hershman, Program Director lhershman@monroe.girls-inc.org

PURPOSE: We have volunteer opportunities in our after-school programming from 3:00 - 6:00pm Monday-Friday. Volunteers are placed in specific slots within our programs so sign up early if you would like to volunteer with a specific program. The programs vary each semester and also include homework help with opportunities to tutor and read with girls.
We ask for a minimum weekly commitment of a 3-hour time block on the same day each week from volunteers working with the after-school program. We do this to ensure that a meaningful connection is created between you and our members.
Sherwood Oaks has partnered with The Girls Inc. through Carefest projects.
PRAYER NEEDS: Pray for staff and volunteer needs; security and caring for the girls who attend.


BANNEKER CENTER
930 W. 7th Street. Bloomington, IN 47404 (812)349-3734
Website: https://bloomington.in.gov/banneker
Contact: Leslie Brinson - Banneker Facility/Program Coordinator -
PURPOSE: The Banneker Community Center provides after-school programs, a Family Resource Center, gymnasium, computer learning centers, and a recreation room.
Our current volunteer needs are:
Elementary After School tutors
Facility Maintenance Work- cleaning, painting, etc.
Friday Family Nights
Preschool sports programs
We are also in need of donations:
After school and evening snacks, pencils, board games,
kitchen supplies, playing cards and xbox games
Sherwood Oaks has partnered with The Banneker Center through summer program signups and lunch program.
PRAYER NEEDS: Pray for our students and staff to find success and peace in their everyday lives.


WHEELER MISSIONS (Formerly Back Street Missions)
215 S. Westplex Ave. Bloomington, IN 47404 - (812)-333-1905
Website: http://wheelermission.org/
Dennis Abrams:
Dwayne Arnold:
PURPOSE: Wheeler Mission Ministries provides Christ-centered programs and services for the homeless and those in need. Our services take a holistic approach to our local homelessness community by providing physical, mental, emotional and spiritual help. Our men's residential programs provide shelter, meals, and case management for men in non-addiction programs. The goal is to help them obtain long-term, lasting change in their lives through a relationship with Christ. Our Addiction Recovery program for men is a long-term, residential opportunity to receive help with addictions and other life-dominating sin.
Sherwood Oaks partners with Wheeler mission by contributing monthly to their general budget and Carefest projects (Back Street Missions)
PRAYER NEEDS: Finances for needed renovations of the buildinggs – to serve as a winter shelter for the homeless; effective ministry with those who stay at the mission.