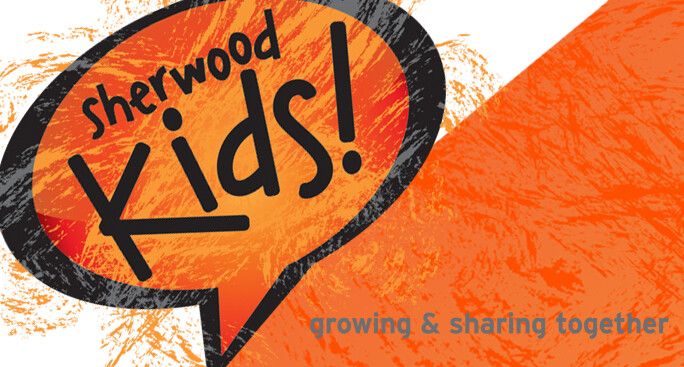 September News for Sherwood Kids!
Fall programming is in full swing! Check out the following important news to learn what's going on and how to stay connected:
Joining God's Family class at Bloomington East begins on Sunday, September 5, during the 11:00 service. If your child is interested in baptism or is thinking about taking the next steps in his or her relationship with Jesus, this class is for you. To register, click here.
Family Five is a five-minute devotional for the whole family...delivered right to your phone! It consists of a short video and conversation starters that reinforce the Core 52 lessons that the adults and children learn on Sunday mornings. Beginning on September 13, receive a new devotional every Monday at 3:00pm via text messaging and share it with your kids in the car, during a meal, during Life Group, before bedtime...whenever! Click here.
Add light to our GIANT light bright board! Sherwood Kids has created a visual reminder that God's Word is a lamp for our feet and a light on our path. For each Core 52 verse your child memorizes from September 12, 2021, to September 4, 2022, he or she will have the opportunity to add a peg to the oversized light bright board in his or her area. So, work together with your child at home to memorize God's Word so that the light on the board and God's light in your life will shine brighter.
"What's Next?" Nursery Parenting Workshop at Bloomington East on October 10 from 11:00am-1:30pm. This parenting workshop is one of 4 workshops designed to encourage intentional, Christ-centered parenting in each phase of a child's life (i.e., Nursery, Early Childhood, Elementary, and Jr. High). If you have kids new to or about to enter the nursery phase (0-24 months old), please join us on October 10 as we look ahead to this phase and work together to prepare for it. Lunch will be provided. To learn more or to register, click here. (Note: The other 3 workshops focus on the other three phases respectively. The Early Childhood workshop will be offered in August, Elementary in May, and Jr. High in March.)
Family Commitment at Bloomington East will be on Sunday, October 24. If you are interested in learning more or participating, click here.
Families with kids of all ages can partner with the College Ministry in prayer! This opportunity is a great way for you and your kids to join God in the work He is doing in the lives of some college students. Use to following, link to sign up to receive 1) the names of 3-5 college students for whom your family can pray every day and 2) prayer prompts that can guide your prayers each week: https://socc.ccbchurch.com/goto/forms/1607/responses/new.
Anna Dunn is resigning as the Sherwood Kids Nursery Coordinator. While the Sherwood Kids staff is very sad to lose such a fun and responsible teammate, we are extremely thankful that Anna has spent the last year helping Sherwood Kids minister to families during a pandemic. What a gift! We are also excited to see God's plans for Anna to continue to unfold. Please keep Anna and Sherwood Kids in your prayers as we go through this season of change.
The Sherwood Kids! team is currently looking for a part-time Nursery Coordinator who would serve families and volunteers through the Nursery Ministry. To learn more about this position, check out the job description in the attachment. If you know someone who would like to apply, please tell them to send a cover letter and resume to Stephen Figert at . Interviews will begin in mid-September and will continue until the position is filled.
Join a Sherwood Kids Volunteer Team! When you serve in Sherwood Kids, you are part of a community of people whose relationship with Jesus leads kids to experience who God is and how we love Him. If God is leading you to be part of this community on a mission, contact us at or sign up here.
If you would like more information about the goings-on in Sherwood Kids!, please feel free to visit out webpage (socc.org/kids), follow us on Instagram (@sherwoodkids_east), and join our Facebook page (Sherwood Kids!). As always, please don't hesitate to contact us at if you have any questions or concerns.