Staff & Leadership
Our Staff
« Back to Staff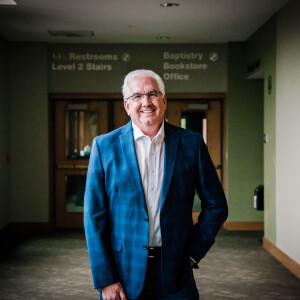 Relational. Compassionate. Discipler.
Cary was ordained as an Elder in 2005, but he and his family have been a part of Sherwood Oaks for over 30 years. Through the years, Cary has served in various capacities, and now spends his time as an Elder, an financial advisor to the church leadership, and very active with our College ministry. Cary is also completing his degree in 2021, obtaining his counseling license to assist him in ministering to college men.
He is approaching 30 wonderful years with his wife Julie. Julie leads Yarns of Prayer making and delivering prayer shawls for cancer patients, and partners with Cary in College Ministry. They have 2 sons. Joseph (26), a Kelley School of Business graduate of Indiana University and married to Savannah (Billingsley). James (22) is a 2021 Xavier University graduate pursuing secondary education in history. His athletic passions include rock climbing, cycling, and basketball.
Cary has discipled over 150 young men and in 2017 completed his first book (co-authored with Dann Denny), "An Unlikely Discipler" on the importance of discipleship in the church and workplace. It is available at Morganstern's bookstore and on Amazon.com. He loves the theatre and ranks Les Miserables, A Chorus Line, and Wicked among favorites. He is an avid reader and pupil of Andy Stanley, Dallas Willard, and Timothy Keller.
Favorite Verse: Matthew 28:19-20